Ulead Video Studio Plus
11
Not too shabby!
Video creation and distribution has become a rather simple process. This in part due to the savviness of content creators, but also because the tools of the trade have become accessible to a larger audience. Next to highly professional software there's also a lower tier of applications that only contain the necessary features for a decent project and boast a work flow style interface.
Ulead Video Plus, or should I say Corel VideoStudio X8, is a semi-professional video editing suite. I say semi-professional because it looks the part, but it isn't that deep. The main application, VideoStudio is very similar to others of its kind. The main editing screen is comprised of a preview panel, a resource panel and the timeline. However, to ease dilettantes into the standard workflow of video creation, the main window is split into three tabs: Capture, Edit (which I've just described) and Share.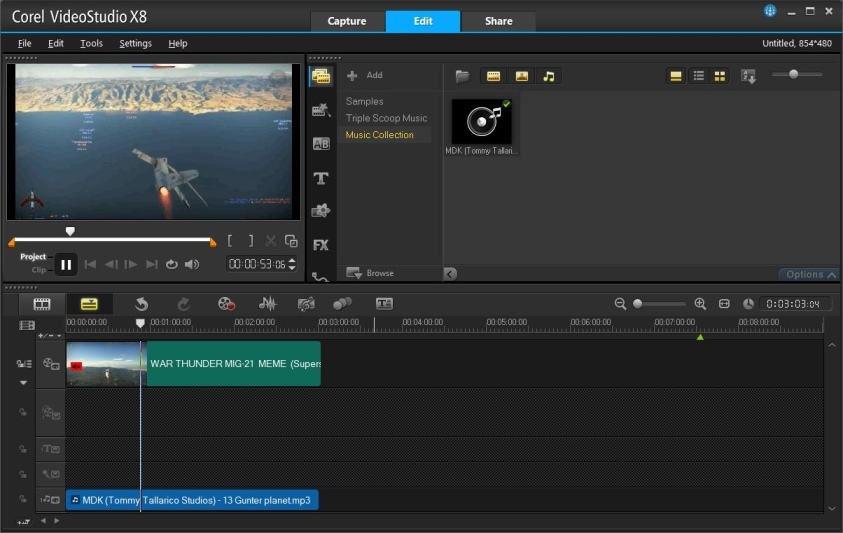 In case you intend to make a talking head video, this is the section to focus on initially. Using a connected video recording device, you can begin capturing footage directly into VideoStudio. Alternatively, you can capture the computer screen, or scan DV tapes. Whats more there's a Stop Motion feature for those who are into making stick-man animation.
The Edit window on the other hand is where you can import video clips and stitch them together into a cohesive result (hopefully). The timeline contains two video tracks, the second is an overlay box, which can be re-sized and set in any position on the screen. Very useful for reaction videos or commentary. There are also two audio tracks, one for pre-recorded audio and another one dedicated to voice recording. The latter can be used to record commentary. The fifth track is reserved for subtitles.
VideoStudio has a very neat subtitle creation window. After selecting the desired track from the timeline, you can open the Subtitle Editor where VideoStudio can scan the track for voices and automatically assign subtitle segments. Hence, you no longer need to worry about marking start and stop keys for every line. Better yet, you can use the visual interface to extend, reduce, split and create segments as you see fit. Playback is also very ergonomic. Clicking on a subtitle will move the play marker at the start key, from there you can isolate and play only the part of the track that is contained within that segment. This is a godsend for amateur subtitle creators, like me. Subtitles created in this way can be exported to and from .srt, .utf and .lrc files. There are two main disadvantages though. Firstly, although Unicode is supported, you cannot type special characters directly into the editor. Secondly, if you forget to export your work before clicking on Ok, you will never be able to edit the subtitle in that form again. However, the segments will now appear on the timeline and will become hard-subs when you will eventually put everything together.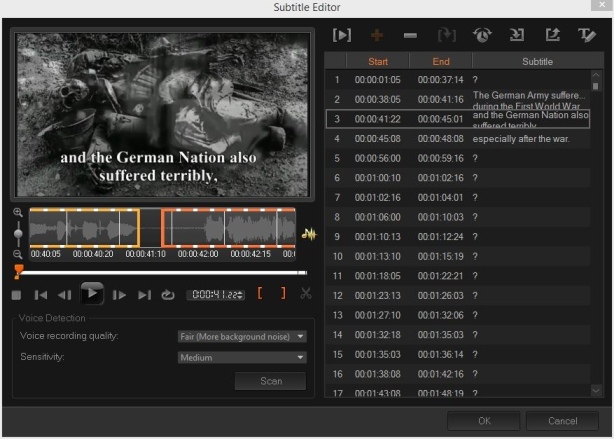 Finally, in the Share tab you will again be able to inspect the project and create either a video file or an audio file. You can also opt to encode in formats that are compatible with game consoles (PSP, PS3 and Xbox), or upload it directly to an online video platform. VideoStudio supports, YouTube, Vimeo, Flickr and Facebook. As a side note, you can also create HTML5 video projects.
Besides the main application icon, you will also find Corel FastFlick and Corel ScreenCap. FastFlick is essentially a video collage creator with witch you can compile pictures, video and audio. The result can be edited further in VideoStudio or just saved as it is.
Features
Live capture from device
Stop motion video capture
Live screen capture
Sound mixer
Motion tracker
Subtitle editor
Overlay (embedded) video track
Commentary recording track
Library of graphic elements and music clips
Video filters
Direct upload to online platform
Conclusion
Corel VideoStudio X8 is rather old. The current version at this time is X10. However, this installation package allows the creation of a free 30 day subscription, with only a few feature restrictions. The projects come out alright, so there's nothing to worry about being missing. Especially if you don't require having high levels of customization. Good for video creation, and good for subtitle creation.
RELATED PROGRAMS
Our Recommendations
---
---
---
---